Either you have never dove before, or you are already certified diver we have a diving course to suit your level. From 
try scuba diving
 the opportunity to try diving for the first time and feel the freedom to be underwater that just diver knows, or enroll a 
Open Water Diver Course
 in Phuket, the first certification level and become a real diver.
Certified divers will enjoy the 
Advanced Open Water Diver Course
, which brings them to explore the underwater world deeper (30m) and practice more diving skills during five greats adventures dives in Phuket, PhiPhi and Racha Islands.
We also provide Professional training as the Divemaster Course and bring you ready for supervise divers and assist Diving Instructors to teach. The Divemaster training is the previous step to the Instructor Development Course (IDC) and starts a career.
ABOUT US
We're a diving center with family atmosphere, and love to share our passion of diving with you.
Amazing Phuket Adventures is a Diving Center providing Scuba diving courses base in Rawai south of Phuket Island. 1 km from Nai Harn beach and only 5 km from Chalong pier (boat departure).
Our friendly, widely experienced, customer and fun oriented Team wants to make your diving holiday in Thailand turn into a truly fantastic experience. We'd like to welcome you as guests and see you return as friends.
---
DO YOU AND YOUR FAMILY NEED A VACATION?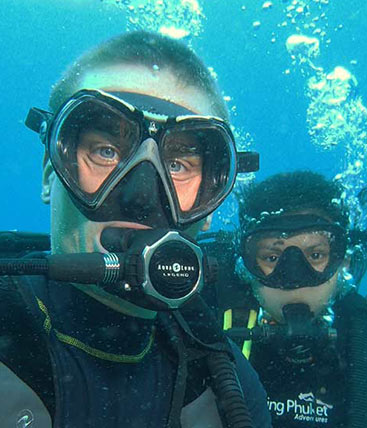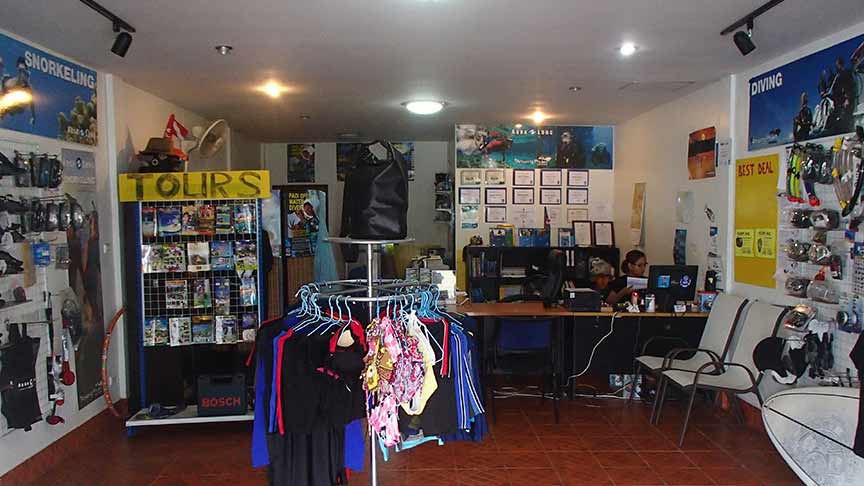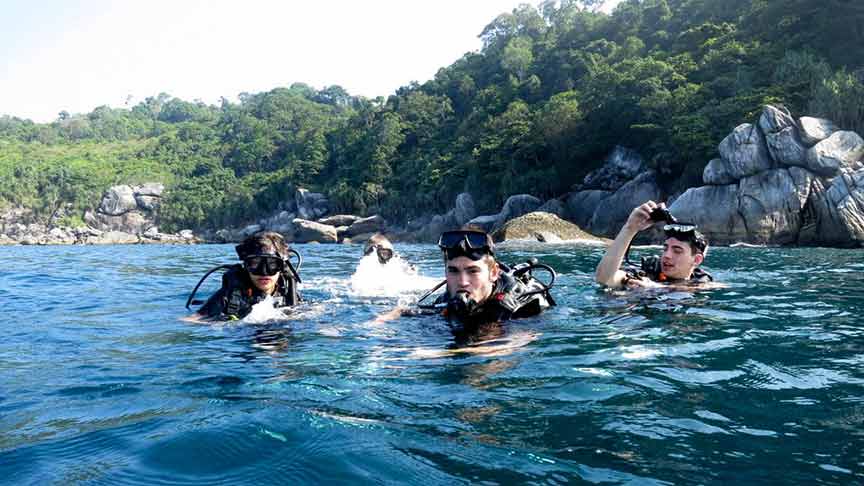 Review on Trip Advisor
"scuba diving day trip"

I would like to recommend Amazing Phuket adventures scuba diving day trips. The service was very personalized and good. Johan was great in customer service and on the day trip. I am sure on my next visit will dive with them Visit in June 2016
"TOP"

Johann is a very experienced monitor. In addition he is very friendly and transmits his passion for diving. He knows the right places to see many things as possible. Everything is well organized. It's perfect ! Visit in September 2015
"Amazing dive shop!"

Just finished 2 weeks with Johann and Franck and it was one of my best diving experiences. I did rescue, efr and deep diver PADI courses with them and they both went above and beyond in order to follow not only the padi standard but a much higher standard of both diving and service(and this was exactly what I was looking for). Besides diving, they helped me around Phuket with accommodation, food and every little question I had to ask them. If you ever around Phuket and want to dive. This is THE-PLACE Visit in April 2015
"Fabulous service! Great diving !"

I have been with many dive operations around the world and this is without a doubt one of the best I have experienced. I went on a one day dive trip and found that the service was impeccable, the gear nearly new and the whole operation efficient and a lot of fun! The dive boat they use is perfect for the job and is very well run. No hanging around but very very safe. The food was great and the crew fantastic. If you are diving in Phuket look no further - I cannot imagine a better operation exists on the island! Visit in April 2015
BOOK YOUR DIVING LIVEABOARD ONLINE & GET -10% OFF
We offer the best diving experience to the Similan islands and all around Phuket!
Diving Liveaboard to Similan Islands, Hin Deang and Burma
Visit and explore the Similan Islands with one of our great Liveaboard trip. From 2 days to 6 days you will dive the best dive site of the Similan National Park. Similan is a paradise for divers and snorkelers with the crystal clear water and colorful reef.
Join a trip more than two days and get the opportunity to dive "Richelieu Rock" certainly the most extraordinary dive site of Thailand discovered by Jacques Yves Cousteau. In 2015-2016 many whale shark and Manta Ray have been spotted by divers on dive site like Koh Bon, Koh Tachai and Richelieu rock. Now it can be your turn…
---
INFORMATION DIVING LIVEABOARD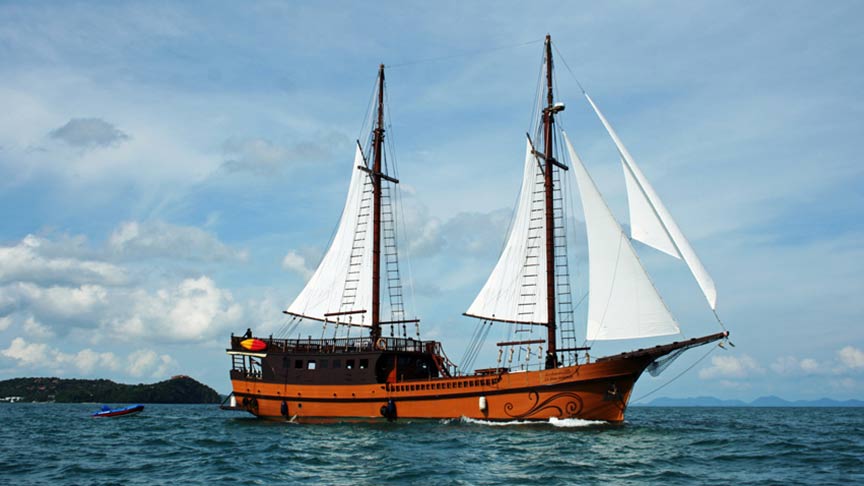 Diving Day trip: Phi-Phi, Racha, Phuket
Join one of our diving day trips and explore one of the best dive sites around Phuket. Boat departure is from Chalong Pier in the south of Phuket at 10 min drive from our office to some of the famous dive sites around PhiPhi island or Racha Islands, as well some open sea dive sites as Shark Point or the King Cruiser wreck. We propose diving trip with 2 or three dives with daily departure. Phuket is known for his good dive site and the diversity of the marine life in the Andaman Sea. Dive with a big school of fish, explore the reef to find incredible and colorful nudibranch or be the lucky one to dive next to the largest fish on the planet. A Whale Shark.
The are seen around Phuket and Similan Island from December to April. Racha Noi island has a famous dive site named South Tip where you can spot the majestic Manta Ray.
Phuket dive site will suit all divers level, with most of the time clear water and soft current. Some dive sites are more recommended for Advanced diver due to depth and current.
Snorkeling and Tours in Phuket
We also provide a range of Snorkeling and day trip tours to enjoy the beauty of Phuket and the Islands, with fantastic activities.
Don't miss the extraordinary Phang Nga Bay with a day cruise by boat to the famous "James Bond" Island (reference: "Man with a golden gun"), visit the mangrove by sea canoe and an epic village built on pillars on the sea where live Sea Gypsies.
Visit PhiPhi Island and amazing landscapes surrounding crystal clear water. Discover the Andaman sea and the famous "Maya Bay", where Leonardo DiCaprio has been for the movie "The Beach". Sceneries here are breathtaking, a complete cruise tour around the archipelago will leave you an unforgettable souvenir.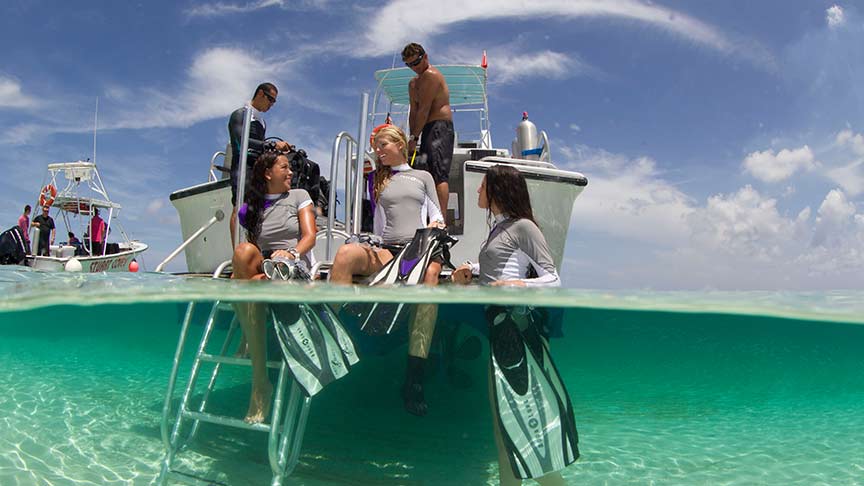 We propose as well an Excellent day trip to Racha Yai island with different water activities, the boat suitable as well for divers that make a good option for families to spend the day together.This Fun day is running every day.
We also have selected one of the most interesting shows about the history and believing of the Thai people, with the Siam Niramit night show. all our tour and activities are not listed on the website but do not hesitate to contact us for any requirement and we will make our best to arrange it for you.
Phuket and Similan Diving – Diving day trip to the best dive sites in Thailand
Phuket and the surrounding islands have a lot to offer to all divers and non-divers. There are may dive sites, suitable for all levels from beginners to experienced Divers. The large choice of dive site can suite recreational diver and Technical Divers who like reef dives, wreck dives, caves and those who look for macro marine life.
The hard coral reef at the Racha's Islands, with white sandy bottom bays, the wall dive at Koh Doc Mai and PhiPhi covered with soft corals, sponges, gorgonian and where a huge diversity of marine is hiding
The island of Phuket is a world-famous destination for diving in Thailand especially the island of Koh PhiPhi and cruises to the Similan Islands with the site of Richelieu Rock world-wide, Phuket is also the most developed tourist destination in the country. Amazing Phuket Adventures offers diving and day trips for diving in Phuket, as well as diving cruises to the Similan Islands. The most favorable season for scuba diving on Phuket and cruising-dives to the Similan Islands is from October and May. The Similan National Park is close the rest of the year.
Diving in Phuket – Dive Site PhiPhi island
Diving center Phuket – PADI diving course phuket
Located in the north of Phuket Island, in a paradisiac landscape, with crystal-clear waters and granite rocks overlooking the sea, are the Similan and Surin Islands. Famous with the dive sites like Koh Bon Knows for the encounter with the Manta Rays or Koh Tachai and Richelieu Rock for these spectacular dives with the possible encounter of the Whale Shark, the largest fish in the world. The quality of the dives to Similan made it the first destination for this activity in Thailand.
But it does not stop there because the dive sites around Phuket also offer unforgettable dives. Some of them with a wonderful marine life such as Shark Point or Anemone Reef, Bida Nok off PhiPhi or their spectacular underwater sceneries such as South Tip. Wreck dive enthusiasts can not miss the King Cruiser wreck site.
Go diving with Amazing Phuket Adventures, we will do our best to advise you and show you the best diving sites in Phuket according to your level and what you are looking for.